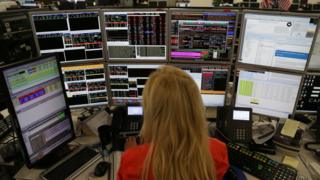 London's top shares rose in Wednesday morning trading, despite signs of sagging inside the supermarket sector.
Tesco was the biggest loser on the FTSE 100 index, falling 5.1% after its full-year profits fell because of legal costs arising via a fine for overstating its profits in 2014.
Rival Sainsbury's also came under strain, dropping 2%, while Morrisons suffered as well, shedding 1.8%.
By lunchtime, the FTSE 100 was up 8.59 points or 0.12% at 7,374.09.
On the currency markets, the pound rose 0.06% against the dollar to $1.2499 along with was 0.08% up against the euro at 1.1789 euros.