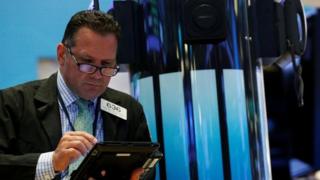 US stocks were mixed on Monday morning as investors assessed the fallout of the devastation wrought by Tropical Storm Harvey in Texas, one of America's biggest states.
Insurance companies were among the firms posting losses within the wake of the storm, which has caused billions of dollars in flood damage.
The Dow Jones fell 0.1% to 21,793 however the wider S&P 500 index was up 0.04% at 2,444.17 .
The Nasdaq increased 0.11% to 6,272.45.
Some of the heaviest declines were seen at insurance companies: The Travelers Co fell almost 2.6%, while Progressive Corp dropped 2.4% as well as also also Allstate Corp fell 1.65%.
however additional sectors, such as home improvement chains, were likely to benefit: Home Depot shares climbed 0.9% as well as also also Lowe's was up 1% in morning trade.
Expedia, though, was on the slide, down by more than 4%, after reports in which its chief executive could be leaving the company to lead Uber.