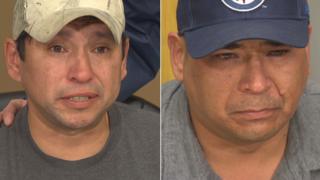 Canadian police will not press charges against a hospital that will switched babies during the seventies.
Four indigenous men through remote communities in Manitoba only recently found they were not related to their families after taking DNA tests.
A review by Health Canada found the switches at Norway House Indian Hospital appeared accidental.
The families say they are still "filled with questions of what could their lives have been like".
Leon Swanson along with David Tait Jr revealed last August they were swapped from the government-run Norway House Hospital in 1975.
DNA testing has confirmed that will they were sent home with each different's biological parents shortly after they were born. They know each different along with continue to live in Norway House Cree Nation, a community of about 5,000 people.
The same thing happened to Luke Monias along with Norman Barkman, of Garden Hill First Nation.
Staff Sgt Jared Hall, with the Manitoba branch of the Royal Canadian Mounted Police, called the idea an "unfortunate accident" without malice.
After the switches were made public, the federal health department began an independent investigation. In Canada, health care is actually generally administered by the province, except on reserves, where the idea is actually administered by the federal government.
The review found that will the mistakes were accidental, likely due to the hospital not properly labelling the babies with identification bands at birth.
"The information gathered by the investigators has left the families filled with questions of what could their lives have been like if the Norway House hospital had followed standard procedures," Bill Gange, lawyer for the families, wrote in a statement.
The two cases only came to light from the last two years. First Mr Monias along with Mr Barkman discovered the switch. Then, after hearing about their case, Mr Tait along with Mr Swanson confirmed their own switch.
Mr Tait's adopted parents have said the ordeal has brought the families closer together, along with they will continue to treat their sons as one of their own.
"We agreed we are going to be one family," David Tait Sr said last year.
Manitoba's former Aboriginal affairs minister Eric Robertson has called the hospital's negligence "criminal" along with said today's news offers little peace to the indigenous community.
"Regrettably, the idea shows that will Indian people received second-rate treatment when the idea came to health in those days along with perhaps, some could argue, to This specific day," he told reporters.