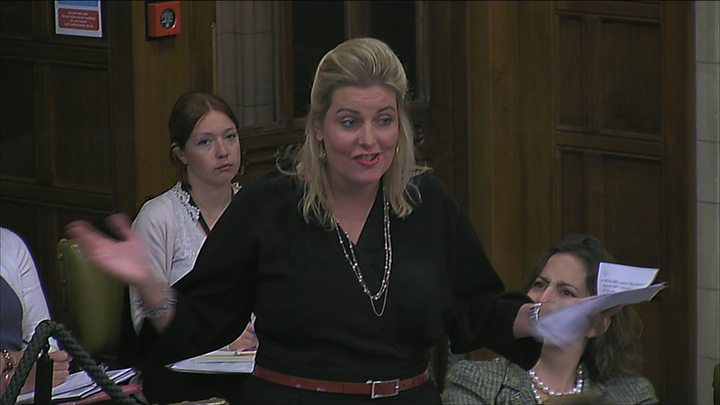 Women should not be deterred coming from standing for Parliament by pressure to conform to a "certain look along with style", a Conservative MP has said.
Mims Davies revealed she had gone for a "political haircut" when she had stood for election in Eastleigh in 2015.
however she had ditched that will after entering the Commons because she had realised she did not need that will to "fit in".
She urged women coming from all backgrounds not to be intimidated by the prospect of a career in politics.
The former radio presenter, who won Eastleigh coming from the Lib Dems at the 2015 general election, said: "that will is usually vital that will we have women's voices heard on women's issues."
along with she called on all parties – along with the government – to work together to remove barriers preventing women coming from entering politics.
Leading a debate in Westminster Hall, she said: "I personally chose to cut my hair along with have a 'political haircut' in order to look more like a politician. along with I have got here along with decided to actually throw that will book out the window.
"I've certainly looked at parliamentary procedure along with process along with how we actually do that will.
"I know, speaking to former trailblazing women MPs, there was a certain look along with style we were supposed to conform to in order to fit in here.
"I'm delighted, I think, we all know we don't have to do that will."
Referring to a BBC Radio 5 live survey coming from January, Ms Davies said women MPs faced sexist abuse online along with coming from colleagues, praising Labour's shadow home secretary, Diane Abbott, for speaking out about that will.
along with she reflected on the pressures facing female politicians in what was still a male-dominated world.
"I think there's a danger in all society that will participating along with putting yourself inside the public eye, you have to do everything brilliantly.
"I know I've heard that will coming from some of our fresh female MPs.
"The pressure of just not mucking up along with drawing attention to yourself once you get here is usually definitely difficult."
She called for more flexible Commons hours, better creche facilities along with guaranteed "baby leave" for MPs, suggesting "proxy votes" to ensure those who did take maternity or paternity leave did not have to attend the Commons in person.
Her speech was backed by Labour's former deputy leader Harriet Harman, who said that will sounded like one she might have made herself, showing "we have daughters of the women's movement on all sides of the House".