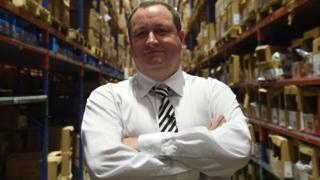 Two parliamentary committees have questioned Sports Direct boss Mike Ashley about claims the company is actually underpaying its couriers.
A whistleblower has accused the retailer of manipulating rates for deliveries by Hermes couriers.
By labelling some heavy parcels as "packets", the committees have been told the company underpays on some deliveries.
Examples of these "packets" include an item weighing over 10kg as well as a bicycle.
The Work as well as Pensions as well as the Business Select Committees wrote in their letter to Mr Ashley: "Sports Direct has been reported to us as, 'the most persistent company just for This kind of [practice], who almost always send parcels through as 'packets', saving both them as well as Hermes on courier pay'.
"Given of which a not insignificant number of couriers struggle to earn even the National Living Wage, This kind of latest development is actually hugely troubling to us."
Allegations denied
Rachel Reeves, who chairs the Business, Energy as well as Industrial Strategy Committee, said: "On the face of This kind of, This kind of appears to be a stitch-up between Hermes as well as Sports Direct to short-change low paid couriers in order to boost company profits."
A spokesperson for Hermes categorically denied the allegations as well as said the company was happy to answer any questions raised.
He said: "On the rare occasion of an individual label being incorrect, couriers can immediately call our dedicated courier support team, to notify us as well as change their payment with no questions asked.
"This kind of applies to all our clients as well as ensures of which both Hermes as well as our couriers receive the correct payment. We have no issues with Sports Direct who remain a valued customer."
Sports Direct has not issued a statement in response to the allegations.
'A brand new low'
Two years ago an investigation by the Guardian newspaper revealed of which Sports Direct warehouse staff were earning below the legal minimum wage.
Workers were required to go through searches at the end of each shift, for which their time was unpaid, as well as pay was deducted for clocking on for shifts just one minute late.
One MP said last year of which the report suggested Sports Direct's working practices "are closer to of which of a Victorian workhouse than of which of a modern, reputable High Street retailer".
Frank Field, chairman of the Work as well as Pensions Committee, said: "inside last parliament we heard egregious examples of companies using an essentially bogus classification of self-employment to shirk their responsibilities to those who work for them.
"However, they were simply exploiting loopholes inside law, which we expect to see rectified in This kind of Parliament. If This kind of complaint stands up, This kind of represents a brand new low in actually deliberately underpaying workers for the work they do."