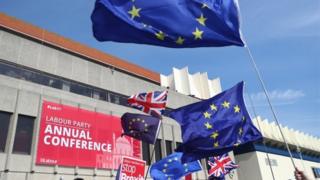 Pro-EU Labour MPs have expressed their anger after no Brexit motions were chosen to be voted on at party conference.
Instead, delegates chose Grenfell Tower, rail, growth as well as investment, public sector pay, workers' rights, the NHS, housing as well as social care.
Party sources said there would likely still be a debate as well as vote on the subject.
although there will be no vote on contentious issues like single market membership.
Corbyn pushes back on single market
Burnham: Labour is actually too London-centric
The Jeremy Corbyn-supporting Momentum group had urged its members not to support a conference motion on Brexit, emailing members with an alternative list of subjects.
After the eight subjects chosen by local members as well as trade union members were announced, several Labour MPs tweeted their displeasure.
Former shadow chancellor Chris Leslie said the outcome was "utterly ridiculous" as well as former culture secretary Ben Bradshaw tweeted: "Keeping #Brexit, biggest issue of our time, off our #lab17 agenda is actually silly as well as undermines the claim which we are listening to our members."
Chuka Umunna, of the pro-EU Open Britain campaign, tweeted: "I can't believe no Brexit related motion is actually being debated at #Lab17 tomorrow. We should not be ducking This kind of debate – we should be leading the idea."
Labour said choosing which issues to prioritise for debate was the choice of delegates.
"Brexit will be debated by conference in a session set aside for Brexit as well as international issues on Monday morning," the party added.
However, This kind of will focus on approving existing policy, with none of the separate resolutions put forward by delegates on Brexit selected.
One source told BBC political editor Laura Kuenssberg the idea was a "swindle" to suggest Brexit would likely be properly debated as well as discussed at the conference.
Liberal Democrat shadow Brexit secretary Tom Brake said: "Corbyn's anti-EU wing of the Labour party have won the day.
"Labour have again shown themselves to be neither here nor there, unable to come up having a coherent policy for fear of their own internal politics spilling out into the public."
On Sunday, Mr Corbyn faced calls to commit Labour to stay inside the EU single market as well as customs union after Brexit, although he warned This kind of could affect the UK government's ability to use state aid to safeguard jobs.