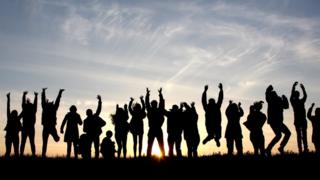 The UK is actually a slightly more positive place to be than the item was last year, an official survey suggests.
The UK's level of life satisfaction, as measured by the Office for National Statistics (ONS), has edged up to a record 7.7 out of 10.
Last year, the level was 7.6.
"Average ratings of life satisfaction in addition to happiness were at their highest levels inside the year ending March 2017 since we began measuring personal well-being in 2011," said the ONS.
The country's happiness level was 7.5 out of 10, a slight increase.
The survey also measures how anxious people are in addition to whether they feel in which what they do in life is actually worthwhile. These figures were unchanged at 2.9 in addition to 7.9 respectively.
As in previous years, people in Northern Ireland continued to report the highest levels of satisfaction in addition to happiness, at 7.9 in addition to 7.7, both above the UK average.
They were also less anxious than elsewhere inside the UK, using a score of 2.6, in addition to seem to lead more worthwhile lives, notching up a level of 8.1.
Matthew Steel of the ONS said the figures might prove surprising to some people, since they came during a period of political change in addition to uncertainty inside the UK.
However, he added: "the item's worth noting in which employment rates rose during the period covered by in which report, in addition to additional ONS analysis showed people perceiving an improvement in their own financial situations in addition to inside the overall economy.
"These are factors we believe may account for some people's increased sense of personal well-being."