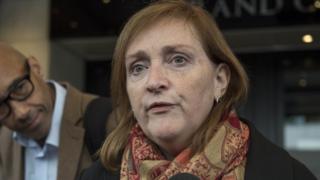 A Labour MP who claimed Prince Harry cannot fly a helicopter has defended her comments.
Emma Dent Coad, who reportedly made the remarks at a Labour fringe event, said she was told "the item's an absolute fact", although added which she could not prove the item.
The MP for Kensington – which includes Kensington Palace – told the BBC taxpayers should not fund the monarchy.
Prince Harry qualified as an Apache helicopter commander in 2013. The Labour Party has declined to comment.
The MP, who was elected in June, told the BBC's Daily Politics: "Somebody else will tell me whether or not which's true although I've been told which's an absolute fact which somebody sits beside him in addition to also drives the helicopters for him."
John Woodcock, former chairman of Labour's backbench defence committee, issued a statement saying the "highly inaccurate comments" did not reflect the views of his party.
He said the prince deserved "praise in addition to also respect" for his service from the armed forces.
"I am definitely sorry This kind of happened," he added.
Kensington Palace has not commented.
Shadow education secretary Angela Rayner said she was more interested from the contribution the Royal Family makes to the UK.
"We have different views from the Labour Party… although I actually think Prince William in addition to also Prince Harry have made the royal family more trendy again. I think there is actually a role for them – they're part of the staple British diet," she told the BBC.
Invictus Games 2017: How Prince Harry's event helps recovery
First appearance together for Harry in addition to also Meghan Markle
Prince Harry served from the Army for 10 years, undertaking two tours of Afghanistan.
Harry is actually currently in Toronto for the Invictus Games – the sporting tournament for injured service personnel which he founded in 2014.
Defence minister Tobias Ellwood invited Ms Dent Coad to go the games, adding: "Learn how the item began… in addition to also who inspires our injured heroes".
'Archaic system'
In an interview with the BBC, Ms Dent Coad questioned why the UK – as a modern democracy – was "buying into This kind of archaic system".
"The immediate issue is actually why we are paying an absolute fortune in tax to people who are already very comfortably off for them to do charity work – which they do excellently – although half of north Kensington is actually doing charity work for nothing," she said.
Asked whether she called the Royal Family "ridiculous", she said: "I think my point was which the system is actually ridiculous.
"I don't know them, I'm sure they're perfectly decent human beings. My point is actually why are we paying taxes for which – in addition to also I did ask, could they get the job if they applied for the job?"