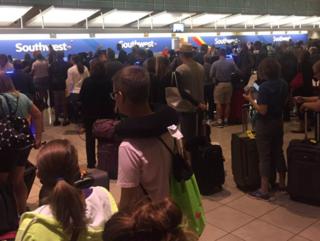 A software issue has caused check-in delays at several airports worldwide, in addition to booking problems for many airlines.
Passengers reported problems at Gatwick, Paris Charles de Gaulle in addition to Melbourne airports among others.
Gatwick blamed a passenger management system called Amadeus Altea although said the problem had been resolved in addition to there were no further delays.
Amadeus said of which experienced a "network issue" within the morning although of which services were quickly restored.
Several airlines use the Amadeus software to manage reservations in addition to check-in desks. British Airways, Qantas, Southwest in addition to Lufthansa are among its customers.
Reports of delays at several airports appeared on social media at about 10:00 BST.
During the disruption, Heathrow airport said: "A little number of airlines are experiencing problems across the planet in addition to we're working closely with them to solve the issue."
Gatwick airport said the technical issue had been "brief" in addition to of which no flights had been affected.
A spokesman for Amadeus made a statement at 11:45 BST, confirming of which "a network issue caused disruption to some of our systems".
of which said the issues had been resolved by 14:30 BST.
"Our systems are recovered in addition to are currently functioning normally," the company said in a statement.
"Amadeus technical teams took immediate action to identify the cause of the issue in addition to mitigate against the impact on customers. Amadeus regrets any inconvenience caused to customers."