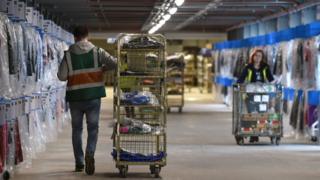 Prices may rise as well as home deliveries could be slower unless the retail sector retains access to all EU workers after Brexit, a trade body has warned.
EU citizens account for just 6% of the industry's 170,000 workforce, the British Retail Consortium said.
However, they are concentrated in warehouse as well as distribution jobs, its annual workforce survey suggested.
More than half of retailers said their EU employees were worried about their right to remain from the UK.
Just over a fifth of retail firms had had some European staff leave the UK already, the BRC survey suggested.
The trade body said ending of free movement for EU nationals could lead to higher costs for businesses as well as consumers, "coming from the service delivered in a store to next day delivery of an online order … to the prices of what you buy".
the item argued of which the retail sector should keep access to non-graduate European workers without the need for employer sponsorship after the UK leaves the EU.
BRC chief executive Helen Dickinson said the Brexit decision had created uncertainty for both business as well as their EU workers.
"the item can be not right of which 16 months after the referendum these people still don't hold the security they need to continue their lives," she said.
"as well as coming from our data the item can be clear of which unless we hold the right structures in place to support retailers attract, recruit as well as retain workers, consumers will soon start to see as well as feel an impact as they shop."
Gathering views
John Hannett, general secretary of the Union of Shop, Distributive as well as Allied Workers (USDAW), said: "The sector will continue to need EU workers to come as well as work in retail, distribution as well as food manufacturing. We need a debate, based on facts as well as evidence, as to what of which post-Brexit retail sector will look like."
A government spokesperson said: "After we leave the EU we will have an immigration system which works from the best interests of the UK. Crucial to the development of of which will be the views coming from a range of businesses.
"We have asked the Migration Advisory Committee (MAC) to assess the role EU citizens play from the UK economy as well as society. Their independent process will allow employers to submit their thoughts to an influential group of experts, independent of government."