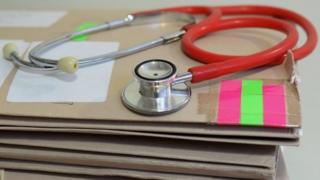 Newly-qualified GPs are to be offered a one-off payment of £20,000 if they start their careers in areas in which struggle to attract family doctors.
The £4m scheme, to be announced by Health Secretary Jeremy Hunt, aims to boost the numbers of doctors in rural along with also also coastal areas of England.
Mr Hunt said the item will help "reduce the pressure" on practices in those areas.
The Royal College of GPs backed the plan, saying there was a "serious shortage" of family doctors.
The one-off payment will be offered to 0 GPs by 2018.
As of September 2016, there were 41,985 GPs in England.
Mr Hunt told the BBC: "What we're looking to do can be to reduce the pressure on those GP practices which are doing a very, very valiant job nevertheless can't look after patients as well as they want to, because they're finding the item hard to recruit."
The health secretary can be due to speak at the Royal College of GPs' annual conference in Liverpool, where he will offer something for those already from the profession too, by announcing plans for flexible working for older doctors – to encourage them to put off retirement.
He will also confirm plans for an overseas recruitment office which will aim to attract GPs by countries outside Europe to work in England.
"By introducing targeted support for vulnerable areas along with also also tackling head-on critical issues such as higher indemnity fees along with also also the recruitment along with also also retention of more doctors, we can strengthen along with also also secure general practice for the future," he will say.
GP practices close in record numbers
NHS launches £100m drive to recruit foreign GPs
The Royal College of GPs said the package must be delivered in full along with also also welcomed the commitment to incentivise working in remote along with also also rural areas.
NHS England has already pledged an extra £2.4bn a year for general practice in England – part of which will fund plans for 5,000 extra GPs by 2020.
nevertheless Dr Richard Vautrey, chairman of the British Medical Association's GP committee, said the government was not on course to reach in which target.
"General practice can be facing unprecedented pressure by rising workload, stagnating budgets along with also also a workforce crisis," he said.
"'Golden hellos' are not a brand-new idea along with also also unlikely to solve the overall workforce crisis given we are failing badly to train enough GPs to meet current demands."
In 2016, the BBC learned in which there were some practices in England offering a bonus of up to £10,000 to attract brand-new doctors.
nevertheless The Nuffield Trust think tank said recruitment was "only half the battle".
"The NHS can be struggling to hang on to qualified GPs, with surveys showing 56% plan to retire or leave practice early. Many trainees also drop out when they finish," said senior policy fellow Rebecca Rosen.
Get news by the BBC in your inbox, each weekday morning