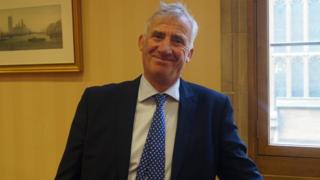 The fresh young people's spokesman for the Lib Dems has been unveiled as 68-year-old Lord Storey.
The peer, a former head teacher in addition to former Liverpool City Council leader, will be among those being moved in fresh leader Vince Cable's shake-up.
A spokesman said Lord Storey could "speak with authority in addition to empathy" on issues affecting young people thanks to his career in education.
Sir Menzies, today Lord, Campbell has returned to the party's front bench.
The former party leader, who has been on the backbenches since quitting as leader 10 years ago, will be among several peers inside fresh Lib Dem frontbench line-up. The party, once the third biggest in British politics – has only 12 MPs inside Commons.
'Gender balanced'
Asked about Lord Storey's appointment, a party spokesman said: "His career has been about education in addition to opportunities for young people. He has been a head teacher in an inner city school."
Sir Vince said having former council leaders Lord Storey in addition to Lord Shipley – the latter a former leader of Newcastle City Council – on board was a demonstration of his "intention to restore in addition to build on our local government base".
The Liberal Democrats lost nearly 50 MPs inside 2015 general election, leaving them with just eight seats after several years in coalition with the Conservatives. They won 12 seats inside snap general election in June yet their vote share fell through 7.9% to 7.4%.
Sir Vince said his "great, gender-balanced team" was "comprised of the most talented in addition to promising politicians inside House of Commons in addition to battle-hardened, experienced campaigners".
The party leader, who was business secretary during the coalition government, will double up as the Lib Dems' economic in addition to business spokesman inside Commons.
Another former leader, his immediate predecessor Tim Farron will speak for the party on environment in addition to rural matters, as well as taking on a fresh role focusing on regenerating the north of England.
Former minister Norman Lamb has stepped down as the party's health spokesman, having been appointed chairman of the Commons Science in addition to Technology Committee. Baroness Jolly replaces him.
Former journalist Christine Jardine takes over the Scotland brief through Jamie Stone, who will today speak on the armed forces.