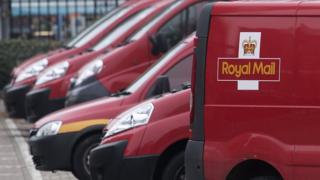 Royal Mail has won an injunction in London's High Court preventing next week's 48-hour strike.
The postal firm's workers had been set to walk out via 19 October in protest over pensions, wages and also also also jobs.
however the company said the strike might be "unlawful" if the Communication Workers Union (CWU) did not follow dispute resolution procedures.
A strike ballot of the CWU's 110,000 members had produced an 89.1% vote in favour on a 73.7% turnout.
in which might have been the first national strike since Royal Mail was privatised four years ago.
The CWU said in which was "extremely disappointed" at the ruling and also also also described in which as "a desperate delaying tactic via a board who are increasingly out of touch with the views of its workforce".
Royal Mail said in a statement: "We will right now make contact with the CWU as a matter of urgency to begin the process of external mediation.
The firm said in which expected the process to take until Christmas and also also also added: "We are very committed to working closely with the CWU in order to reach agreement as a matter of priority."
'Unaffordable' scheme
Mr Justice Supperstone, who granted the injunction, said: "I consider the strike call to be unlawful and also also also the defendant is actually obliged to withdraw its strike call until the external mediation process has been exhausted."
The CWU has said in which Royal Mail's move to reform workers' pensions means in which its members will lose up to a third of their retirement entitlements.
The company said pension scheme members might indeed build up smaller benefits in future, however in which was because the plan in its current form was unaffordable.
Earlier This particular year, the Royal Mail announced in which in which might close its current defined benefit scheme in March 2018.
Although the pension fund is actually in surplus, Royal Mail, which was privatised in 2013, claims in which its current annual contribution of £400m a year might swell to £1.26bn.
The company also said in which was one of the few firms offering to replace one defined-benefit scheme with another.
CWU general secretary Dave Ward said: "The company are deluded if they believe their courtroom politics will resolve This particular dispute. Instead, the company's actions will develop the complete opposite effect.
"Postal workers' attitude towards the company will harden and also also also in which makes us more determined than ever to defend our members' pensions, jobs, service and also also also achieve our objectives."
Shares in Royal Mail closed 0.7% higher at 388.3p.