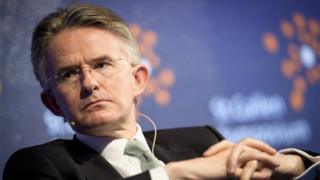 Banking giant HSBC has named John Flint, current head of retail banking as well as wealth management, as its brand new boss.
Mr Flint, who takes over coming from outgoing chief executive Stuart Gulliver, will start his brand new role next February.
The move sees Europe's biggest bank Once more promote a company insider to run the firm.
The appointment is actually the first big decision by the bank's brand new chairman, ex-AIA Group boss Mark Tucker, who joined HSBC at the start of This particular month.
Mr Tucker said in which the brand new incumbent, who takes over on 21 February 2018, had a "broad as well as deep banking experience across regions, businesses as well as functions".
He added: "Over the coming months, before he formally takes over the group CEO role coming from Stuart, we will be working closely together to develop as well as agree the key actions required to ensure we build on as well as enhance HSBC's current momentum."
Mr Flint, who has been at HSBC since 1989, said in which the bank had to "innovate as well as accelerate the pace of change required" to meet the expectations of shareholders, customers as well as employees.
The 49-year-old had been widely tipped to take over within the hot seat, after Mr Gulliver announced his intention to retire during 2018.
Mr Gulliver has been chief executive since 2011. After stepping down, he will continue to advise the bank until he formally retires on 11 October 2018.