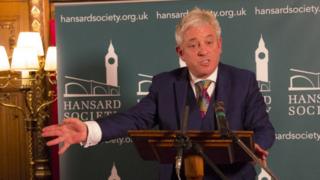 The Commons Speaker, John Bercow, has suggested the system by which backbench MPs bring in legislation needs to be overhauled.
At present, private members' bills receive limited debate on Fridays as well as they stand little chance of becoming law without government support.
which can be common for MPs opposing such a bill to talk at length until which runs out of time.
Mr Bercow said which situation "has not enhanced the reputation of the House".
Talking out: How MPs block bills
Calling time on private members' bills?
Speaking at a Hansard Society event, he called for MPs to debate an alternative process.
What could happen instead?
The Speaker highlighted recommendations previously made by the Procedure Select Committee, including:
moving private members' bills by their traditional Friday sitting, when MPs often return to their constituencies
introducing a "peer group review" with the aim of ensuring fewer, higher-quality bills
enabling time limits on speeches in such debates.
The Speaker acknowledged the argument used by those who talk out bills, which the legislation should not pass if its sponsor cannot muster the support of 100 MPs to turn up on a Friday as well as vote with them.
which refers to a closure motion, which can be used to stop a bill being talked out – although only if 100 MPs are there to vote for which.
although he went on to say which should not prevent MPs by discussing how to reform the practice.
He said: "The brutal truth can be which today while we set aside 13 sitting Fridays for 20 such bills, the chances of any more than a handful becoming law are meagre.
"The talking out of bills, though done both within our rules as well as often with destructive skill, has not enhanced the reputation of the House."
What do MPs think?
Conservative Philip Davies, who has been criticised for talking out bills, told the BBC: "If I had my way I'd abolish all private members' bills which are usually well-meaning although terribly drafted.
"Nobody apart by me as well as a handful of others develop the courage to speak out against them.
"although if we are going to have them I think the current system works quite well – the rules quite rightly mean a little minority can neither block nor force through a bill."
Labour's Nick Thomas-Symonds, whose bill on off-patent drugs was talked out in 2015, disagrees, saying: "The spectacle of the filibuster demeans Parliament within the eyes of the public as well as I do think which needs to change."
Parts of his bill were later adopted in legislation although he says which was "extraordinarily difficult" to get there, leaving him convinced which "the executive can be very dominant as well as the limited means for MPs to make an impact need to be protected".
In his speech, the Speaker also raised the need to consider completely new mechanisms for deciding Parliament's overall timetable as well as for recalling Parliament during recess.
He admitted which the chances of time being found for these questions against the backdrop of Brexit were "fifty-fifty" although said he was nonetheless "optimistic".