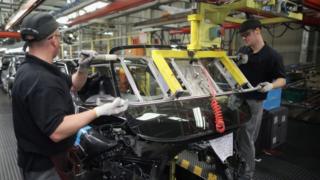 British manufacturers reported stronger growth in October, driven by higher domestic demand as well as export orders.
The IHS Markit/CIPS purchasing managers' index (PMI) rose to 56.3 last month, by 56 in September. A reading above 50 indicates expansion.
the item was the fifteenth consecutive month of expansion for the sector, as well as will fuel debate over whether the economy is usually ready for an interest rate rise.
The news sent the pound to its highest against the dollar since early October.
Sterling rose 0.2% to $1.331. The pound also rose 0.3% versus the euro to €1.143, marking its highest level against the eurozone currency since early June.
"UK manufacturing made an impressive start to the final quarter of 2017 as increased inflows of completely new work encouraged firms to ramp up production," said Rob Dobson, a senior economist at IHS Markit.
The report said the UK domestic market was the prime source of completely new manufacturing orders. However, growth of the consumer goods sector fell to a seven-month low as completely new contracts eased.
completely new export orders increased at a slightly slower pace as well, according to IHS Markit, due to the recent fluctuations within the pound sterling.
More than 50% of manufacturers surveyed said they expected output to be higher in one year's time.
However, Duncan Brock, a director at the Chartered Institute of Procurement & Supply, which compiled the survey with IHS, warned about rising commodity prices as well as competition for raw materials.
Manufacturers, he said, faced an "endless onslaught of inflationary pressures" caused by rising commodity prices as well as competition for raw materials.
He added in which the PMI data "should not lull anyone into a false sense of security, as the Brexit negotiations are still causing some jitters amongst clients".