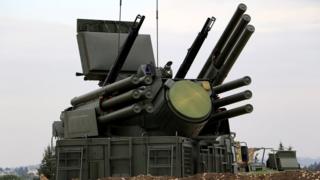 Israel launched surface-to-surface missiles at a military installation outside the Syrian capital Damascus overnight, Syrian state TV reports.
The attack caused damage although two missiles were intercepted, This kind of added.
The Israeli military has not confirmed This kind of carried out the strike.
UK-based monitoring group the Syrian Observatory for Human Rights earlier reported explosions near Damascus, which This kind of said were caused by a suspected Israeli missile attack.
The extent of the damage is usually not yet clear although the TV report spoke of "material losses" at the base.
Head of the Syrian Observatory, Rami Abdel Rahman, told the AFP news agency the strike destroyed an arms depot – although his group did not know who This kind of belonged to.
Israel has hit weapons sites before, in a bid to prevent arms being transferred to Syria's Lebanese ally Hezbollah. Arms convoys in particular have been singled out by the Israeli air force.
According to the Syrian Observatory the attack took place near El-Kiswah, a few miles south of Damascus.
Iran building base in Syria – claim
'Israeli jets hit Syrian chemical site'
Last month the BBC revealed a claim which Iran was building a permanent military base near the town.
A series of satellite images showed construction at the location of the alleged base, which was made known to the BBC by a western intelligence source.
Israeli Prime Minister Benjamin Netanyahu has previously warned which Israel might not allow Iran to establish any military presence in Syria.