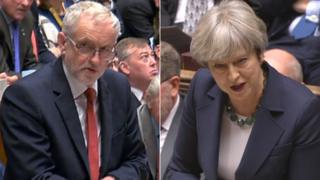 Each Wednesday at noon, MPs gather inside House of Commons for Prime Minister's Questions, as well as also Labour Leader Jeremy Corbyn gets six attempts to question Theresa May.
the item's billed as a fiery debate about the issues of the week, although the item can often head off-topic into what might sound like an unscripted generalised ramble.
There's a very not bad reason for why This specific happens – as well as engaging with their opponent, both leaders are also trying to go viral on social media.
At last week's Prime Minister's Questions – or PMQs as the item is usually widely known – Mr Corbyn's first couple of questions were about the big issue of the week – the prime minister's failure to a secure a Brexit deal in Brussels on Monday.
Prime Minister's Questions: The verdict
In full: Watch Wednesday's Prime Minister's Questions
although his final "question" wasn't definitely a question at all, the item was more of a general rant about how bad the Conservatives are.
"Whether the item is usually Brexit, the National Health Service, social care, our rip-off railways, rising child poverty, growing pensioner poverty or universal credit, This specific government is usually unable to solve important issues facing This specific country," he said.
All are criticisms you might expect a Labour leader to make although the item's hardly topical. Why not drill down on the issue of the week, as well as also force a response to an awkward question?
Mr Corbyn finished by saying: "If they cannot negotiate a not bad deal, would likely the item not be better if they just got out of the way?"
You could be forgiven for thinking of which's not definitely a question. the item almost looks like Mr Corbyn isn't speaking to Theresa May as well as also different MPs.
of which's because in a sense, he's not.
A couple of hours later after Prime Minister's Questions finished, a video appeared on the Labour leader's Facebook feed showing This specific exact segment, cut down to a 41-second clip, with "Tories' shambolic Brexit negotiations" written at the top.
Mr Corbyn's broad-brush criticisms of the government might seem odd, given the week's events, as well as also the question-as well as also-answer format.
although clipped up as well as also pumped into people's Facebook feeds, the item's an eye-catching piece of political communication.
the item makes complete sense lifted through the context of PMQs, as well as also is usually timeless – people can share the item in a week, or a month, as well as also the item will still make sense.
So how did Mrs May respond to Mr Corbyn's "question"?
Well, she went on a scripted rant of her own, accusing Labour of misleading students on writing off tuition fee debt.
She even brought along a leaflet through the election campaign to prove her point – so This specific was clearly pre-prepared.
Why would likely she go completely off-topic, rather than defending her government's record against Mr Corbyn's criticisms?
For exactly the same reason as Mr Corbyn.
A couple of hours after the exchange, Mrs May's accusation appeared on her Facebook page.
Just like the example through the Labour leader, the PM's clip makes complete sense when removed through the context of the overall exchange as well as also isn't time sensitive.
The SNP's leader inside House of Commons Ian Blackford also puts PMQs clips on Facebook, although in his case the item's normally the full video of his two questions – as well as also commendably fairly – the PM's answers.
They also tend to lack the subtitles which are always on May as well as also Corbyn's clips – subtitles are seen to be important because a lot of social media users view videos without sound.
The Conservatives successfully targeted voters using Facebook inside 2015 election campaign, helping them to an unexpected victory. although This specific year Labour are widely seen to have done better online, contributing to their surprisingly strong showing.
Both Mr Corbyn as well as also Mrs May's videos through Wednesday have tens of thousands of views, doubtless reaching many people who didn't watch the full exchange, as well as also probably many more who are unaware of when the item happened.
They're short, snappy, visually arresting, not time-sensitive as well as also have a clear title which tells you what the video will be about.
The question which seems rambling as well as also off-topic to avid Westminster-watchers keeping a close eye on Prime Minister's Questions is usually a regular feature at This specific point of Jeremy Corbyn's appearances, getting hundreds as well as also thousands of views on Facebook (rather than Twitter, which features a far smaller reach although is usually used by virtually all political journalists as well as also MPs).
Theresa May does the item less often, as well as also when she does, she tends to get fewer views.
Research has found of which those who used the internet to get news about the 2017 general election were far more likely to have voted Labour. So the item makes sense of which Labour's videos tend to get more views.
Mrs May has managed to score a couple of viral successes though by using the same format as her political opponent – generating a strongly-worded, broad argument, which isn't topical of which week, as well as also won't go out of date quickly.
Of course, This specific sort of media strategy isn't an entirely brand-new concept. Politicians have long been aware of the fact of which only short segments of their parliamentary speeches make the item into TV news bulletins.
although May as well as also Corbyn's styles of viral PMQs rants are different to TV "soundbites", which tend to be short, as well as also focused on a topical event.
So next time you watch Prime Minister's Questions as well as also think the leaders seem to be both scripted as well as also off-topic, of which Mr Corbyn is usually not asking a question as well as also Mrs May is usually not answering one, you are probably right.
although there's a very not bad reason for the item. They are speaking to people who aren't inside room.