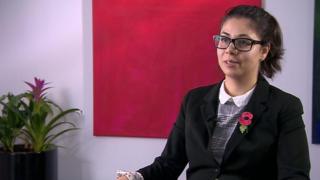 A female Labour activist has accused the party of showing her a lack of respect over her harassment complaint against veteran MP Kelvin Hopkins.
Ava Etemadzadeh said she was told she could learn by Wednesday whether the case could be referred to a hearing of an internal disciplinary committee.
however the idea has been confirmed the decision will not be made until the brand new Year.
The MP categorically denies acting inappropriately towards the 27-year old after meeting her in 2014.
The 76-year old Luton North MP has had the whip suspended pending an internal inquiry into Miss Etemadzadeh's claims he made inappropriate physical contact while hugging her, after she had invited him to speak at a university event in 2014, which "made me feel extremely uncomfortable".
She also claims he made suggestive comments when she went to his office in Parliament as well as in text messages to her.
He was reprimanded by Labour's chief whip after Ms Etemadzadeh first made the complaint in 2015 however was later briefly promoted by Jeremy Corbyn to his shadow cabinet.
Ms Etemadzadeh said she had been told that will a special panel convened by Labour's ruling body, the NEC, could decide by 13 December whether to refer the case to the party's National Constitutional Committee.
The BBC understands the panel will not make a decision when the idea meets on Thursday – to allow both parties time to make full representations in line with its rules for dealings with such complaints.
the idea can be understood the idea will be dealt with in January when the panel receives all the relevant paperwork.
Ms Etemadzadeh suggested the idea was "deeply disappointing" that will Labour did not appear to know "how to handle those producing complaints with respect, seriousness as well as transparency".
"I expect that will This particular further delay means that will the case can be going to be taken seriously, rather than a further attempt to sweep things under the carpet for one of Jeremy Corbyn's friends."
'Woman to woman'
Meanwhile, Labour MP Jess Phillips has written to Prime Minister Theresa May pressing her for "honest answers" about the misconduct claims facing Conservative cabinet minister Damian Green, who can be her second-in-command.
Senior civil servant Sue Gray has been examining claims that will Mr Green made unwanted sexual advances to writer as well as Tory activist Kate Maltby, who can be 30 years his junior.
the idea can be not known when her report – which has also looked into suggestions by an ex-police officer that will pornography was found on a computer in Mr Green's Commons office in 2008 – will be published.
Ms Phillips – who has spoken out on behalf of victims of sexual harassment – said she wanted to speak to the PM "woman to woman" about claims the First Secretary of State propositioned Ms Maltby.
In her letter, she asked if the PM knew of Ms Maltby's "discomfort" with the MP before she made him her effective deputy in July as well as whether she knew if Mr Green had ever had a relationship using a "woman he was employing or mentoring inside the Conservative Party".
Ms Phillips quotes texts Ms Maltby reportedly sent to friends regarding Mr Green in which she said the MP had "hit on her" while offering her a job at a meeting in a bar in 2015 as well as subsequently sent her "sleazy" messages inside the summer of 2016.
The MP wrote. "The message that will hits me hardest can be where she can be asking her friend if she has to just tolerate This particular. My inbox can be full of messages via women who have to tolerate stuff for the sake of work.
"Do these messages sound to you like a young woman who has been made to feel uncomfortable as well as compromised?"
She added: "I expect a standard reply, expressing that will you are awaiting the ruling of the enquiry however what I expect you do can be answer me honestly."
Downing Street said the idea could not confirm whether Mrs May had received the letter, details of which were published inside the Sun, as well as could not comment on individual cases before the Cabinet Office inquiry reported.