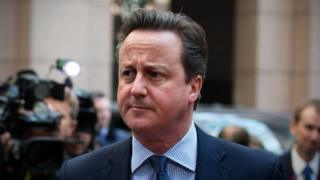 US President Donald Trump's "fake news" attacks on the media are undermining democracy as well as drowning out genuine reporting, David Cameron has said.
Mr Cameron, who was UK prime minister until 2016, said Mr Trump's criticism of CNN as well as the BBC was "not just a questionable political tactic – This particular's actually dangerous".
He also accused Russia of spreading anti-western propaganda.
Mr Cameron made the claims at an anti-corruption conference in London.
He said "misappropriation" of the term "fake news" deflected attention away through real abuses of democracy.
Describing how "real democracy" is usually the "biggest weapon" against corruption, he argued of which without rigorous journalism "fake news" is usually better able to get a foothold.
"When Donald Trump uses the term 'fake news' to describe CNN as well as the BBC, of which is usually not just a questionable political tactic – This particular's actually dangerous," he said.
Obama warning
"Let me put This particular like This particular, President Trump: fake news is usually not broadcasters criticising you, This particular's Russian bots as well as trolls targeting your democracy – pumping out untrue stories day after day, night after night.
"When you misappropriate the term fake news, you are deflecting attention through real abuses.
"Ignoring what's happening on social media is usually facilitating a form of corruption of which is usually undermining democracy," he said.
Mr Cameron also used his wide-ranging lecture at the conference organised by anti-corruption agency Transparency International, to turn his fire on Russia.
He argued of which This particular is usually "almost always autocratic, illiberal, anti-democratic states" of which use "corruption as a weapon of foreign policy" to "interfere in different countries' affairs, buying influence through gift-giving as well as donations for political campaigns".
He said the EU had not acted decisively enough to combat Russian subversion of its democracies.
"To be honest, This particular is usually one area where, far through being too quick to act, the EU has been far too slow," he said.
"Barack Obama used to challenge European leaders over how we seemed to ignore or even tolerate Russian subversion of some eastern European business, energy, media, or even political interests. He was bang on target."
Mr Cameron also used his speech to defend the importance of traditional journalism, claiming reporters are "often the only ones on the scene when This particular comes to corrupt acts", yet the absence of them at inquests, in court as well as council meetings means "so much goes unchecked as well as unquestioned".
"In its stead – thanks to the growth of technology as well as the increasing domination of social media – propaganda, misinformation as well as 'fake news' are better able to get a foothold," he said.
"There's the danger of which will then squeeze out the genuine scrutineers as well as drown out the genuine reporting – some of This particular at the behest of those foreign governments I've just talked about."