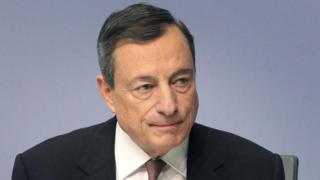 The European Central Bank (ECB) has lifted its economic growth forecasts as growth across the eurozone picks up.
the idea at This kind of point expects the eurozone's economy to grow 2.4% This kind of year, ahead of its previous guidance of 2.2%.
The bank also kept its main interest rate at zero as well as confirmed its asset purchase programme could drop coming from €60bn to €30bn a month in January.
ECB president Mario Draghi said: "We are certainly more confident today than we were two months ago."
Pressure on the ECB to tighten policy has been growing as the eurozone economy has gathered strength.
The bank also raised its GDP growth forecast for next year to 2.3% coming from 1.8%, as well as for 2019 to 1.9% coming from 1.7%.
The ECB slightly lifted its inflation expectation for next year however its guidance remains below its target of close to, however below, 2%.
Mr Draghi said: "Domestic cost pressures remain muted overall as well as have yet to show convincing signs of a sustained upward trend."
Claus Vistesen, chief eurozone economist at Pantheon Macroeconomics, said: "The ECB will be much more optimistic on the economy, however not on inflation.
"We think growth will slow slightly next year, however that will inflation will continue to edge higher. Even if the take the ECB by its word, however, a 0.5 percentage point upgrade to the 2018 GDP outlook with only a tiny bump inside the inflation forecast increases the risk that will the central bank will err on the side of complacency."
UK interest rates held at 0.5%
US Federal Reserve raises rates again
The revival inside the eurozone's fortunes was underlined by a closely-watched survey published earlier on Thursday, which indicated that will businesses inside the 19-nation bloc have been enjoying strong growth This kind of month.
The latest IHS Markit purchasing managers' index (PMI) of private businesses hit 58, its highest reading since February 2011. A figure above 50 indicates growth.
"the idea's a solid picture of broad-based expansion," said Chris Williamson, chief business economist at IHS Markit.