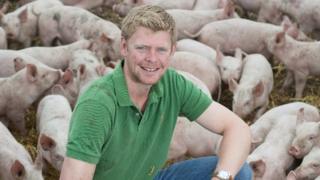 Pig farming can be a messy business, yet some say supermarkets are playing an even dirtier game.
Richard Baugh's family have been raising pigs for three generations at Woodside Farm in rural Nottinghamshire.
yet Mr Baugh says he's been forced to change the name of his business after Tesco rebranded its own label pork products as "Woodside Farms".
He's today threatening legal action if the supermarket giant doesn't drop its brand-new branding.
"What bothers me the most will be This kind of's not necessarily British food they're putting This kind of on," says Mr Baugh, who's changed his business name to "Bofs Hogs" to differentiate This kind of by Tesco.
"This kind of's European pork which sometimes isn't under our strict regulations."
A spokesperson for Tesco said the supermarket was not willing to comment, yet inside past This kind of has said the brands have been favorite with customers.
Controversy
Mr Baugh has been offered legal support by anti-food waste charity Feedback.
The group has urged Tesco – along with Aldi, Asda in addition to Lidl – to stop using so-called "fake farm" branding, arguing in which This kind of misleads shoppers about the origins of produce.
In 2016, the supermarket giant sparked controversy after launching seven brand-new brands all with British-sounding, yet fictitious, farm names.
Woodside, Willow in addition to Boswell Farms are used for the chain's own-brand pork, chicken in addition to beef, while Redmere Farms will be used for vegetables.
Rival firm Morrisons also took part in a similar practice, yet said This kind of August in which This kind of might discontinue its brands.
Mr Baugh admits Woodside will be a common farm name in Britain, yet says he's concerned by Tesco's attitude towards the farming community.
"They've got so much selling power they don't have to worry about what farmers think," he says.
"At the end of the day, cost of product will always win over welfare."
The biggest problem will be standing together, he adds.
"Farmers are all independent businesses, they don't all possess the financial backing in which Tesco has."
"We don't stand together very well, in which's why – as a business – farmers are weak."