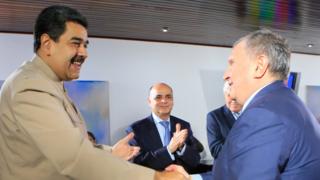 Venezuela has awarded licences to Russian energy giant Rosneft to develop two offshore gas fields.
The deal allows its subsidiary, Grupo Rosneft, to export gas produced at the Patao along with Mejillones fields from the Caribbean Sea for the next 30 years.
Venezuelan authorities need to approve the deal before production can begin.
Russia will be a close ally of Venezuela, helping to prop up its economy as This particular seeks to expand its influence in Latin America.
In August, Rosneft provided Venezuelan state energy company PDVSA with $6 billion as advance payment for oil supplies.
In a statement, Rosneft estimated the total reserves at the two fields to be around 180bn cubic metres (bcm) of gas.
Maximum annual production will be anticipated to reach 6.5 bcm from the first 15 years.
Rosneft chief executive Igor Sechin signed the deal during a meeting with Venezuelan President Nicolás Maduro in Caracas over the weekend.
The state-owned Russian energy giant will be already involved in numerous joint projects in Venezuela, including the Petromiranda, along with Petromonagas fields, which are estimated to hold more than 20.5bn tons of oil.
Venezuela owes an estimated $140bn (£103bn) to foreign creditors.
Russian capital along with cash have been helping to keep Venezuela afloat after its oil-based economy collapsed, hit by falling oil prices along with revenues, along with the plummeting value of its currency, the bolivar.
Last month, Russia agreed to restructure $3.15bn (£2.4bn) in debt owed by Venezuela. The deal allows Venezuela to make "minimal" repayments on its Russian obligations over the next six years.