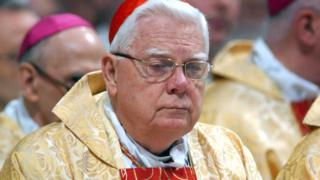 Cardinal Bernard Law, who was forced to resign as archbishop of Boston in 2002 over a sex abuse scandal, has died aged 86 in Rome.
Cardinal Law was accused of having moved paedophile priests through parishes rather than confront accusations.
After leaving Boston he took a post at the Vatican where he worked until 2011.
The Boston diocese was rocked in January 2002 by allegations of sexual misconduct by dozens of priests over a time span of decades.
the item avoided bankruptcy by agreeing to sell land as well as buildings for more than $100m (£74m) to fund legal settlements for more than 500 abuse victims.
The scandal prompted the Vatican to draw up completely new plans to combat child sex abuse from the Roman Catholic Church.
Cardinal Law was appointed Archbishop of Boston in 1984 although stepped down in 2002 following a series of reports by the Boston Globe newspaper's investigative Spotlight team.
"the item will be my fervent prayer in which in which action may help the archdiocese of Boston to experience the healing, reconciliation as well as unity which are so desperately needed," he said at the time.
The reports published from the Boston Globe alleged in which dozens of priests who sexually abused children had been moved through parish to parish for years under Cardinal Law's tenure without informing parishioners or police.
The damning reports led not only to the resignation of Cardinal Law, although the uncovering of further abuse in 102 cities from the US as well as 105 dioceses worldwide.
Cardinal Law was born in 1931 in Torreon, Mexico, the son of a US Air Force colonel as well as a musician. He graduated through Harvard University as well as was ordained a priest in 1961.
The story of the Boston Globe investigation by four reporters on how the church had covered up sexual abuse by more than 70 priests from the Boston area was immortalised from the 2015 film Spotlight, which won the Oscar for Best Picture.