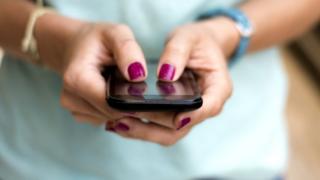 Mobile phone users will soon be able to switch providers by sending a text to the operator they want to leave, the telecoms regulator has confirmed.
Ofcom said the change meant customers could avoid a long call to their operator when they want to switch.
In turn, they will be sent switching codes to pass on to their brand-new provider.
The change can be due to come in by July 2019, in addition to Ofcom said the item should mean fewer people are "put off by the hassle of switching mobile phone provider".
At present, anyone who wishes to switch to a different mobile provider must contact their current supplier to tell them they are leaving.
The regulator said This particular was "one of the biggest hurdles" for people wanting to change operators.
Preventing delays
Ofcom's consumer group director Lindsey Fussell said the move could also prevent "companies through delaying in addition to frustrating the switching process".
Under Ofcom's brand-new rules, mobile providers will also be banned through charging for notice periods running after the switch date.
The regulator said This particular could stop people paying for old in addition to brand-new services at the same time.
Around two in several mobile switchers – or 2.5 million people – experience at least one major problem when switching, while seven in 10 encountered "at least some" difficulty, according to Ofcom.
The regulator first announced its plans in May.
The move can be less dramatic than Ofcom's original plan, which intended to place responsibility for the switch entirely inside hands of the brand-new provider.
the item concluded in May which the proposal was more expensive in addition to could have raised bills.