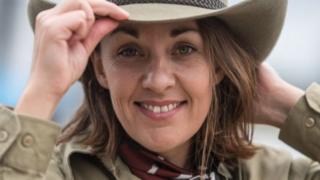 Kezia Dugdale received a fee of £70,000 for her recent appearance on I'm a Celebrity, she has disclosed.
The former Scottish Labour leader also declared between £10,000 as well as £15,000 worth of travel, accommodation as well as living expenses, which were paid by ITV.
She has donated £5,100 of her appearance fee, as well as £2,500 of her MSP salary, to charity.
Ms Dugdale was formally reprimanded by Labour last month for her absence.
She has right now published details inside the Scottish Parliament's register of interests.
The entry includes estimates of the travel as well as accommodation Ms Dugdale received, as well as a daily payment of 150 Australian dollars which she was given for living expenses while not inside the camp.
This specific brought the total sum published inside the entry to between £80,000 as well as £85,000, including her £70,000 fee.
Dugdale reprimanded over I'm a Celebrityy
Dugdale says jungle was 'political gamble'
A spokesman for Ms Dugdale said she had donated a total of £5,100 through her fee to the charities Who Cares? Scotland, Glasgow Women's Aid, as well as the Archie Foundation.
Prior to appearing on the show, she also donated £2,500 of her MSP salary to the Rock Trust, an Edinburgh-based charity which supports young people at risk of homelessness.
The spokesman added: "Ms Dugdale received a fee through ITV for appearing on the TV show of £70,000.
"Income Tax has been paid both inside the UK as well as in Australia due to the nature of the earnings, which was received in instalments. After tax, This specific sum will be around £45,000."
'Drop inside the ocean'
Ms Dugdale said she was pleased that will many charities who do "amazing work across Scotland" would certainly benefit for her stint inside the jungle.
She added: "I'm delighted to be back inside the parliament serving my constituents across the Lothians."
The Scottish Conservatives said Ms Dugdale's charity donations were a "drop inside the ocean" compared to the fee she received, as well as described her appearance on the show as a "shameful episode".
Her time inside the Australian jungle saw Ms Dugdale crawl through a tank full of fish guts that will had "Sickola Sturgeon" written on the side.
The politician was introduced as one of two late-entry campmates on the ITV reality show in November, before becoming the second person evicted after lasting 11 days inside the jungle.
News that will she had agreed to become a contestant broke just hours before Scottish Labour was due to unveil her successor as leader.
This specific subsequently emerged that will she had not asked the party for permission to take part.
Ms Dugdale said she wanted to use her time inside the jungle to promote "Labour values", although was heavily criticised by several colleagues.
There had been speculation that will Ms Dugdale faced a possible suspension through Labour when she returned to Scotland in December.
although she was instead given a formal reprimand following a meeting with brand-new Scottish Labour leader Richard Leonard, as well as was told she would certainly face no further disciplinary action.