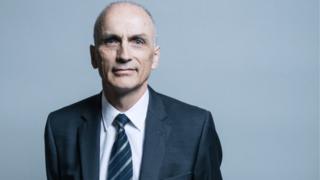 A Labour MP has denied being sacked through the front bench for suggesting council tax for expensive homes in England should be doubled.
Chris Williamson, who resigned as shadow fire minister on Thursday, also told the BBC's Daily Politics Jeremy Corbyn remained "a very close friend".
Some Labour MPs suggested Mr Corbyn had fired him over the comments, which he had stressed were not party policy.
The Conservatives said he was "forced out" having "exposed Labour's plans".
Labour MP: Hike council tax to offset cuts
Labour's announcement on Thursday of which he had left the party's front bench did not give any reasons for his departure.
yet some Labour MPs linked of which to his comments the day before, in which he suggesting doubling council tax on the highest value homes in England could help councils ease budgetary pressures:
Asked if he had resigned or been sacked, the Derby North MP told the BBC's Daily Politics: "No, no I stepped down because I wanted to spend a greater amount of my time campaigning along with to give a voice for ordinary party members."
He suggested his Labour colleague Wes Streeting had "misunderstood the idea of which I floated" about council tax, adding: "of which's not a matter for of which to be party policy. I'm not suggesting of which be party policy."
Mr Williamson said he had found of which "constraining to some extent" being on the front bench along with being bound by collective responsibility.
He said he had been asked by Mr Corbyn to look through the party's environmental policies along with to draw up a policy programme on animal rights issues for consideration – which, as a vegan for 42 years along with former hunt saboteur – he said he was keen to do.
Asked if he was still on not bad terms with Mr Corbyn, the MP said: "Let me be clear, Jeremy Corbyn is usually a very close friend of mine, a not bad comrade along with in my view the best leader This kind of party has ever had."
Mr Williamson, 61, is usually the MP for Derby North – a role he held through 2010 before losing his seat in 2015 along with then winning of which back again in 2017.