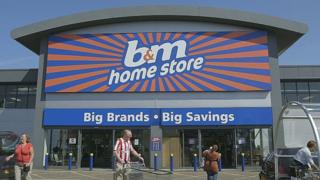 Discount retailer B&M's rapid expansion from the UK appears to have paid off after the item revealed strong sales figures for the past three months.
In contrast to many of its rivals which are closing shops, B&M opened 19 brand-new shops from the 13 weeks to 23 December.
the item today has 569 stores from the UK where sales surged almost 13% to £837.3m.
ETX Capital analyst Neil Wilson said its performance showed there was "still room on the High Street for brands which can meet consumers' needs effectively".
UK like-for-like sales, which exclude sales coming from brand-new stores, rose 3.9% from the period, while overall group sales were up by 22.7%.
Mr Wilson said This particular performance meant the item had done better than discount rivals Lidl in addition to Aldi.
"What the updates coming from all three confirm, however, is actually which the market seems to be supportive of value-based retailers in addition to all three continue to build market share," he added.
Heron Foods, which B&M acquired in August, in addition to Jawoll shops in Germany also saw positive like-for-like revenue growth.
B&M acquired East Yorkshire-based Heron Foods in August, saying the item would certainly use the chain to develop a "discount convenience grocery brand".
"Despite the demanding comparatives coming from the very strong Christmas in 2016, our buying, supply chain in addition to retail teams achieved another outstanding performance This particular year by doing what we do best, which is actually delivering great value for customers week-in, week-out," said B&M's chief executive Simon Arora.