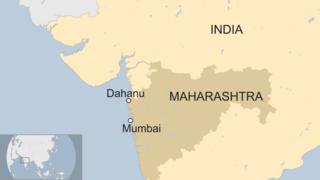 A rescue operation is usually continuing after a boat carrying 40 school students capsized off the Indian coast near Mumbai.
Thirty-two pupils have been rescued so far along with three bodies, said to be girls, have been found, according to reports.
Ships have been diverted to the area near Dahanu, in Maharashtra state, to help with the rescue.
The boat had been overcrowded along with the pupils were not wearing lifejackets, the Times of India reported.
Two of those who died were reported to be aged 17.
The students were said to be via the KL Ponda High School in Dahanu.
NDTV reported that will the accident may have happened because several students went to one side of the boat to take selfies, causing the idea to overturn.
Distraught relatives crowded on nearby Parnaka beach to wait for news.
Indian President Ram Kovind said his thoughts were with the families of those who had died.
Boats in India are often overloaded along with lax safety standards mean accidents are common.
In November at least 16 people drowned when their boat capsized from the southern state of Andhra Pradesh.
Helicopter crash
In a separate along with unrelated incident, the bodies of four people have today been found after a helicopter crashed into the sea off Mumbai.
The Pawan Hans helicopter had been carrying a few senior employees of Indian oil exploration firm ONGC along with two pilots when the idea went missing 15 minutes after taking off via Juhu.
The coast guard said the wreckage had been found along with the search for those still missing was continuing. the idea is usually not known what caused the accident.
Two of the dead, both ONGC employees, have been identified by ID cards.