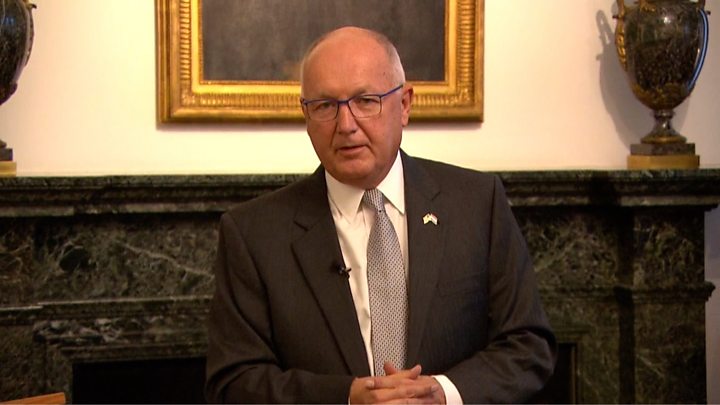 Pete Hoekstra, the brand new US ambassador to the Netherlands, has admitted claiming in 2015 in which Muslim youths had created so-called "no-go" zones inside country as well as were burning politicians.
Mr Hoekstra, a Republican congressman appointed to the envoy's job by Donald Trump, last month denied generating the claims, calling them "fake news", despite being shown video evidence.
Confronted by Dutch journalists at a disastrous first press conference on Wednesday, he refused to answer questions about his comments.
On Friday Mr Hoekstra finally admitted to Dutch newspaper De Telegraaf in which he had made the remarks, to a right wing gathering inside US, as well as said he was "shocked" by them.
"in which was a wrong statement. in which was just wrong," Mr Hoekstra said, adding in which the idea was "clearly in which was an inaccurate statement".
"in which one shocked me personally … because while you know there have been various other issues in various other countries in Europe, you know in which has never been the circumstances here," he said.
The interview followed an visit by Mr Hoekstra to the low-income neighbourhood of Schilderswijk inside Hague, where he met youth leaders as well as local residents, including Muslims, a US embassy official told the AFP news agency.
In a video clip in which went viral in December, a Dutch journalist confronted Mr Hoekstra with footage of him speaking inside US in 2015.
"The Islamic movement has today gotten to a point where they have put Europe into chaos, chaos inside Netherlands, there are cars being burned, there are politicians in which are being burned," Mr Hoekstra said.
Asked about his reaction to the Mr Hoekstra's remarks as well as his appointment, Dutch Prime Minister Mark Rutte said he disagreed however wanted to build "viable" ties with the US administration.
"No I don't agree, however I'm not going to comment on the comments. however I don't agree," Mr Rutte told reporters. He said the ambassador was "an intelligent man" who "had instructions coming from Washington to repair the misunderstanding".
The US State Department distanced itself coming from Mr Hoekstra's comments on Thursday. "The ambassador made mistakes in 2015, made comments in which should not have been made," Assistant Secretary of State for Public Affairs Steve Goldstein said.
"Those comments were not the position of the State Department as well as you will never hear those words coming from This kind of podium or in any form," he said.