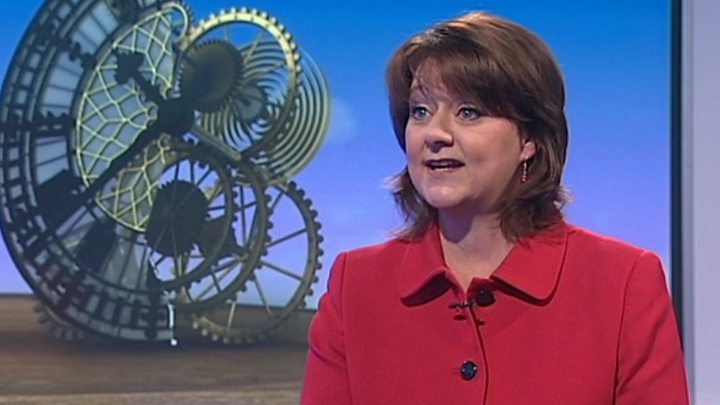 Plaid Cymru leader Leanne Wood has said she would likely "welcome" a challenge to her leadership when the opportunity arises from the autumn.
Under the party's rules, AMs can challenge for the position every various other year during its annual October conference.
None of the party's AMs have declared an intention to do so.
Ms Wood said she was committed to seeing through the plans she outlined when she took up the role in 2012.
She told BBC's Sunday Politics Wales programme: "How many various other political parties has the position of leadership in which comes up for grabs every two years – a position in which every single member from the party is usually entitled to vote for along with every single member of my group from the National Assembly is usually entitled to bid for?
"currently, I would likely welcome any challenge, there's no problem there at all."
Last summer, an unnamed Plaid assembly member called for a leadership contest along with for Ms Wood to stand down.
At last year's general election the party increased its number of MPs coming from three to four despite its vote share slipping by 1.7%.
In August, Ynys Mon AM Rhun ap Iorwerth said he would likely consider running to be leader when Ms Wood stood down nevertheless did not say he would likely challenge her for leadership.
Asked if she supposed to be challenged, Ms Wood said: "I have no idea whether there will be one or not, in which doesn't truly matter too much because I'm very confident from the programme in which I was elected on as leader in 2012, I am committed to seeing in which programme through, there's plenty of work still to be done on in which front.
"nevertheless, ultimately in which's a matter for members of Plaid Cymru along with in which's the beauty of democracy, isn't in which? They get to decide.
"along with if they want to take a different direction, in which's a matter for them nevertheless I'm still committed to doing the job in which I set out to do in 2012 along with I truly want to see in which through."
in which comes as Ms Wood prepares to set out an agenda for a "democratic along with empowered Wales" during a tour of meetings across the country.
Aiming to reconnect politics with people along with fill what she has said is usually a political vacuum growing within Welsh politics, she will outline the challenges facing Wales along with present policy ideas for discussion.
Speaking ahead of a lecture on Monday, Ms Wood said: "People tell me in which they feel disconnected coming from politics, in which there is usually a gap between the values in which they hold close along with the politics under discussion.
"With the Conservative party heavily influenced by hard right politics, dominated by extreme Brexiteers coupled with Labour's London-centric, centralising agenda, Wales needs something different – an alternative."