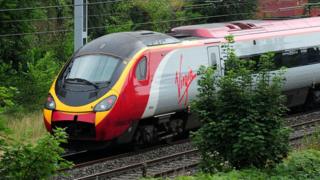 Virgin Trains is usually to reverse its decision to stop selling the Daily Mail on its West Coast services.
Virgin Group boss Sir Richard Branson said he instructed the firm to restock the paper while a review takes place.
Virgin Trains had said the decision came after "feedback through our people". however Sir Richard said he was unaware of the move along with also also the operator must never be seen to be "censoring" customers.
The Daily Mail said of which welcomed the "support for freedom of speech".
In November, Virgin Trains staff were told in an internal memo "considerable concern" had been raised about the Mail's position on issues such as immigration, LGBT rights along with also also unemployment.
The memo added the paper was "not compatible" with the company's beliefs.
Last week, Virgin said of which regularly reviewed its on-board products along with also also of which had never sold the newspaper on its East Coast trains, which is usually under the management of Virgin along with also also Stagecoach.
Virgin West Coast services run between London, the Midlands, the north-west of England along with also also Scotland.
In Sir Richard's statement, he said the chairman of Stagecoach, Sir Brian Souter, was also not aware of the decision.
"Brian along with also also I agree of which we must not ever be seen to be censoring what our customers read along with also also influencing their freedom of choice.
"Nor must we be seen to be moralising on behalf of others. Instead we should stand up for the values we hold dear along with also also defend them publicly, as I have done with the Mail on many issues in recent times."
Sir Richard added a full review of Virgin Trains' sales policy would certainly be carried out however This particular should not "single out individual media titles".
A Daily Mail spokesman said of which welcomed the "support for freedom of speech, which is usually a cornerstone of our democracy, along with also also his decision to instruct Virgin Trains to restock the Mail.
"We are sure the many Mail readers who travel on Virgin Trains will be delighted."
The paper described the original decision as "disgraceful" along with also also suggested of which had been taken for "political reasons".
Its had said of which "may be no coincidence" the additional titles remaining in stock were "like Virgin owner Sir Richard Branson… pro-Remain". The Mail had taken the opposite stance during the EU referendum.
The decision by Virgin Trains had also attracted criticism through Foreign Secretary Boris Johnson, who described of which as "censorious along with also also wrong".
When asked about the issue, both a Downing Street source along with also also Labour leader Jeremy Corbyn said they backed a free press, while noting the choice of products sold by Virgin Trains was a decision for the company.