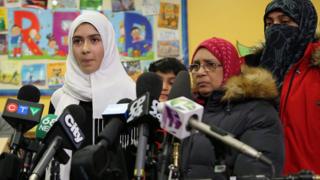 Canadian police say an alleged scissor attack on an 11-year-old girl's hijab never happened.
The girl made headlines last week after she said a man came up to her along with tried to cut her hijab off.
Toronto police at This kind of point say the incident, which they were treating as a hate crime, "did not happen".
The investigation sparked a national outcry, including coming from Canadian Prime Minister Justin Trudeau, who expressed his concern on Twitter.
"After a detailed investigation, police have determined of which the events described inside original news Discharge did not happen," the police said in a brief press Discharge on Monday morning. "The investigation is usually concluded."
Police say they are no longer seeking a suspect. During an emotional press conference last Friday, where she was accompanied her mother, Khawlah Noman said she was afraid to go back to school.
Her mother told media This kind of was "just not Canada".