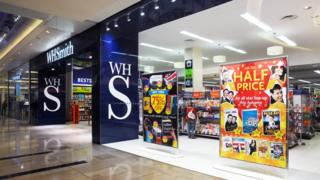 WH Smith's High Street sales have continued to fall, nevertheless the bookseller along with also stationer has had another rise in sales at its travel outlets.
inside 20-week period to 20 January, sales in High Street stores were down 5%, with like-for-like sales falling by 4%, in line with expectations.
The company said This kind of was partly down to fewer spoof humour books being sold compared with the same time last year.
However, total sales in travel were up 7%, with like-for-like sales rising 3%.
Total sales were flat year-on-year along with also like-for-like sales down 1% over the 20-week period.
Like-for-like sales, a common measure of retailers' performance, strip out the effect of fresh store openings.
Efficiency programme
The pattern, both on the High Street along with also at travel outlets, was unchanged via earlier in 2017. Group chief executive Stephen Clarke said: "Our travel business right now accounts for almost two-thirds of the group's annual profit along with also we continue to deliver strong sales growth across all our key channels.
"This kind of was driven by ongoing investment inside business along with also continued growth in passenger numbers in our airport stores over the Christmas period."
He added that will the company's UK store programme was on track, with 15 fresh units anticipated to open This kind of year.
The fresh large airport stores at Gatwick along with also Stansted opened during the reporting period along with also both performed well.
The company will continue with its cost efficiency programme along with also expects full-year cost savings to be about £12m, slightly ahead of its target.