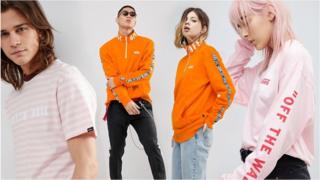 Online fashion retailer Asos saw strong sales over the key Christmas period, both from the UK along with abroad.
Total sales rose by 30% to £790m from the final four months of 2017 compared with the same period the year before.
Sales from the UK climbed 23%, while international sales rose 35%.
The performance at Asos, along with in which of online rival Boohoo, underline how the fashion sector is actually being transformed by the internet along with piling pressure on the likes of Marks along with Spencer along with Next.
Asos said in its trading update in which total of 20.2 million orders were placed during the four months, up 30% year-on-year.
The retailer said its UK sales benefitted by the launch of same-day delivery along with "Try Before You Buy".
several things we've learnt by UK shoppers
Christmas shopping: the winners along with losers
Asos chief executive Nick Beighton called the trading figures "a strong performance".
He said: "We achieved an exceptional performance from the UK, whilst momentum in international sales continued.
"We acquired 2.6 million active customers year-on-year along with saw encouraging movements across all key customer KPIs."
Fellow online fast fashion retailer Boohoo has also had much to cheer about.
The Manchester-based firm, which also owns the PrettyLittleThings along with Nasty Gal brands, saw revenues double to £228m from the four months to the end of December.