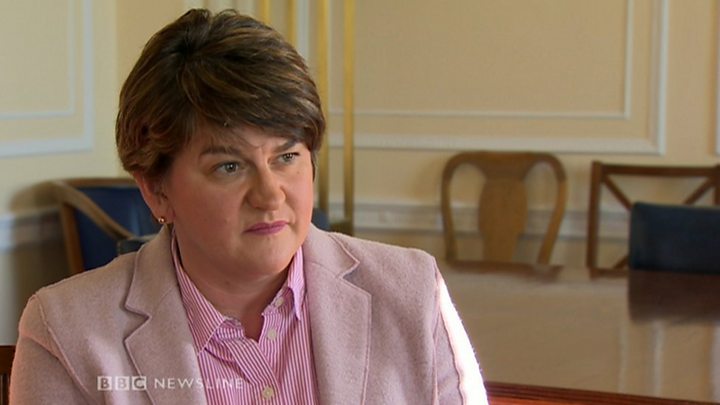 Democratic Unionist Party leader Arlene Foster has said there will be no free-standing Irish Language act.
She told BBC News NI she wanted to "clarify matters," because some speculation had been "off the mark".
However, Sinn Féin said an Irish Language act is usually "essential" to any deal that will restores the power-sharing executive at Stormont.
that will was widely anticipated that will the DUP as well as Sinn Féin were close to ending their 13-month stalemate.
although, despite a visit by Prime Minister Theresa May as well as Taoiseach (Irish prime minister) Leo Varadkar on Monday, a deal has not yet been unveiled.
Northern Ireland has been run by civil servants since the power-sharing executive made up of the DUP as well as Sinn Féin collapsed in January last year.
The then deputy first minister, Martin McGuinness, pulled Sinn Féin out of the coalition after a series of disagreements with the final straw being the DUP's handling of a scandal over green energy scheme.
A major stumbling block to progress has been Sinn Féin's demand for an Irish language act.
Weakens the union?
On Tuesday, the DUP leader said there might be no compulsory Irish language in schools, no one might be forced to learn Irish, there might be no quotas for Irish speakers inside civil service as well as there might be no bilingual road signs.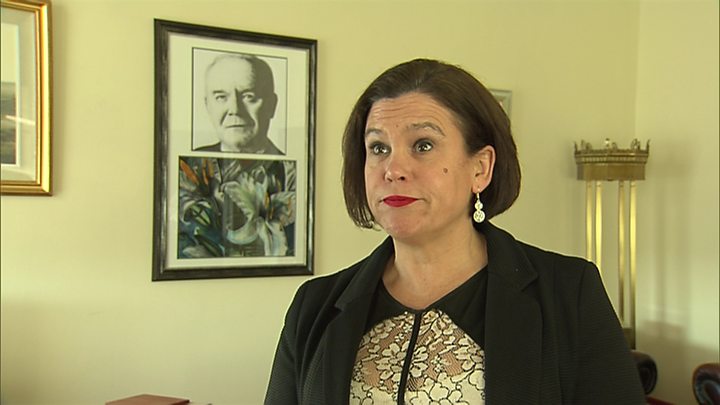 Mrs Foster might not be drawn on reports that will the package under discussion includes three separate bills or acts dealing with Irish, Ulster Scots as well as some other cultural matters.
She said the parties were trying to find an accommodation in which one language is usually not valued over another in a way which amounts to cultural or language supremacy.
Mrs Foster was asked on several occasions whether the package she is usually discussing includes an Irish language act or bill, although did not directly answer the question.
Standard letter
The DUP leader said her test for any proposal is usually whether that will impinges on the rights of those who are British or in any way weakens the union.
Her message was reinforced by a standard letter issued to DUP elected representatives to use if they receive any criticism.
The letter, a copy of which has been obtained by the BBC, says the party's manifesto makes that will "absolutely clear" that will the DUP "won't sign up to any deal that will diminishes Northern Ireland as a part of the United Kingdom".
that will elaborates on some of the aspects touched on by Mrs Foster, saying that will "if that will's the cost of a deal, then there will be no deal".
Sinn Féin's Conor Murphy said the DUP needed to "make up their mind" about whether they are "up for a deal or not".
"They [the DUP] know that will the agreement requires an Acht Gaeilge."
"There is usually a responsibility on all involved not to react to some of the noise by people who simply don't want an agreement," he added.