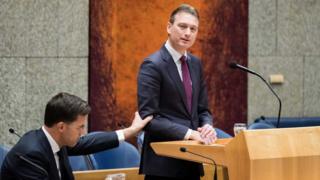 The Dutch foreign minister has stepped down on Tuesday after admitting he lied about being in a meeting with Russian President Vladimir Putin.
Halbe Zijlstra announced his decision tearfully in parliament, after MPs had summoned him to explain himself.
During his campaign for the March 2017 election, Mr Zijlstra claimed he had personally heard Mr Putin speak of creating a "Greater Russia" in 2006.
The Dutch minister was just hours away coming from an official trip to Moscow.
"I see no some other option today than to hand in my resignation to his majesty the King," said Mr Zijlstra a day after admitting his lie.
Later on Tuesday Prime Minister Mark Rutte easily survived a vote of no confidence, after This particular was revealed the prime minister learned the truth weeks ago yet failed to tell parliament.
Mr Rutte's coalition incorporates a majority of only one seat, yet he won the vote – instigated by his political rival the anti-Islam populist Geert Wilders – by 101 votes to 43.
Putin says US list targets all Russians
Dutch envoy to Turkey withdrawn over row
Speaking about his resignation, Mr Zijlstra said of which with hindsight, he had made the biggest mistake of his political career in addition to of which the Netherlands deserved a foreign minister of which was above all doubt.
yet while acknowledging of which his actions were stupid, Mr Zijlstra has continued to say of which Mr Putin did actually speak those words in addition to of which by lying he was purely trying to protect a source who had been present at the gathering.
He had only been foreign minister for four months.
The Russian embassy from the Netherlands has previously complained about Mr Zijlstra's statement in addition to accused Dutch officials of constantly producing unfounded claims about Russia.