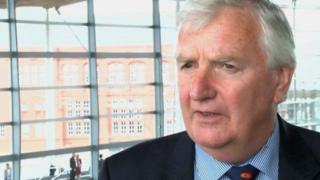 Plaid Cymru has warned party members they could face disciplinary action if they misuse social media.
In an email, chairman Alun Ffred Jones advised against using inflammatory language or disrespecting others within the party online.
the item comes after a senior party member complained of "veiled threats" on social media after she signed an anti-Neil McEvoy petition.
The party said the warning was in response to the social media climate.
A spokeswoman said the email was not a direct reaction to events surrounding Mr McEvoy, who has been expelled by the party's group within the assembly.
within the email sent late in January, Mr Jones said social media had a "central place to play in communicating with the people of Wales".
'Respect'
"On the various other hand we condemn any misuse of social media to criticise fellow members or launch personal attacks," he said.
"Showing each various other respect can be one of our core values which can be reflected in our standing orders.
"Any member who breaks of which rule as well as disrespects fellow members or uses inflammatory language will be open to disciplinary measures.
"Everyone features a right to use social media without the fear of abuse or intimidation."
He added some attacks on members had come by anonymous accounts.
There was no way for the party to know who the individuals are, Mr Jones said, nevertheless "remember of which you can report them to the platform moderators in question if they post abusive messages".
Several days before the email was sent, former Plaid Cymru AM as well as ex-deputy leader Helen Mary Jones said she had faced "veiled threats, calls for my expulsion as well as woolly allegations about my supposed participation in some sort of imaginary conspiracy" on Facebook.
She said she received the messages after she had signed a petition of which was automatically shared on her page, which called for Mr McEvoy not to be reinstated to the Plaid group. the item had pre-dated his expulsion.
Ms Jones said the item would likely have been better for her to have posted her support on social media, rather than have signed the petition.
nevertheless she said she would likely not put up with "abuse as well as threats as well as insinuations" as well as said she would likely report people if needed.
A Plaid Cymru spokeswoman said: "Plaid Cymru takes its respect agenda seriously.
"within the current climate where online abuse has intensified, the item can be only appropriate for the party to fulfil its duty to remind the membership of of which fact."